---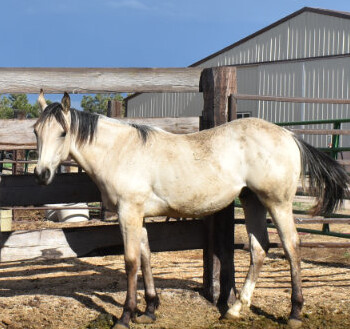 Details
Date of Birth:
May 27, 2021
Gender:
Stallion
Color:
Buckskin
Registration #
6101433
View Registration Papers
Description
This gorgeous silvery buckskin will be kept at Third River Ranch. Should grow to be 15 to 15.1 and although would be an awesome trail horse he will also likely be a great team roping horse or working ranch horse. He has a great disposition and should be a fast learner. We have kept two of his full sisters for brood mares as they are just so athletic as well as a pleasure to be around. This colt's full brother was the FIRST EVER foal giveaway colt. Stay tuned on this colt as he is destined to be a one of a kind stallion down the road!
He will be a  stunning powerhouse with a great mind!
Prized Pedigree Includes:
Sire Line:
Diamonds Sparkle
,
Doc Bar
,
King
,
Poco Bueno
,
Wimpy
Dam Line:
Doc Bar
,
King
,
Leo
,
Poco Bueno
,
Wimpy

---
Pedigree
---
Great-GrandSire:
Genuine Doc (1295706)
GrandSire:
Genuine As Diamonds (3083783)
Great-GrandDam:
Diamonds Sparkle (1004317)

Great-GrandSire:
Poco King Tuck (0639743)
GrandDam:
Miss King Degree (3108249)
Great-GrandDam:
Miss Handy Degree (2461813)
---
Great-GrandSire:
Go Likea Roan (2697800)
GrandSire:
Mesa Roan (3166958)
Great-GrandDam:
Mesa Crimson Lady (1436106)
Great-GrandSire:
Docs Handy Guy (2608967)
GrandDam:
Docs Handy Blue (3621453)
Great-GrandDam:
Miss Wimpy Blue (1599626)