---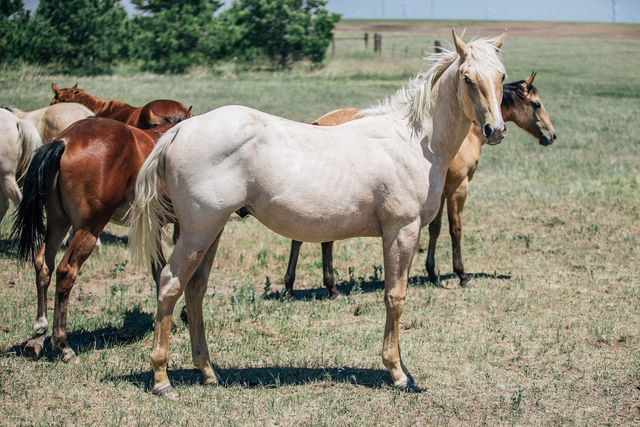 Details
Date of Birth:
June 11, 2019
Gender:
Gelding
Color:
Palomino
Registration #
5982302
View Registration Papers
Description
Lovingly nick named Curly Fry by our granddaughter because of his wavy tail, this horse has been a looker since birth. The joke on the ranch is that this colt was born half grown. He is going to be big and stout and will likely be 15.2 or possibly a bit bigger. He won't be a tall thin horse, he will be able to hold his weight on the ranch, or in roping.
Not lazy or laid back, this horse has a motor. Would make an excellent head horse or ranch horse.
Prized Pedigree Includes:
Sire Line:
Diamonds Sparkle
,
Doc Bar
,
King
,
Poco Bueno
,
Wimpy
Dam Line:
King
,
Leo






---
Pedigree
---
Great-GrandSire:
Genuine Doc (1295706)
GrandSire:
Genuine As Diamonds (3083783)
Great-GrandDam:
Diamonds Sparkle (1004317)

Great-GrandSire:
Poco King Tuck (0639743)
GrandDam:
Miss King Degree (3108249)
Great-GrandDam:
Miss Handy Degree (2461813)
---
Great-GrandSire:
Go Likea Roan (2697800)
GrandSire:
Mesa Roan (3166958)
Great-GrandDam:
Mesa Crimson Lady (1436106)
Great-GrandSire:
Toms Mister Gill (3954003)
GrandDam:
Gills Country Lady (3954003)
Great-GrandDam:
Fancy Country Lady (2917754)