---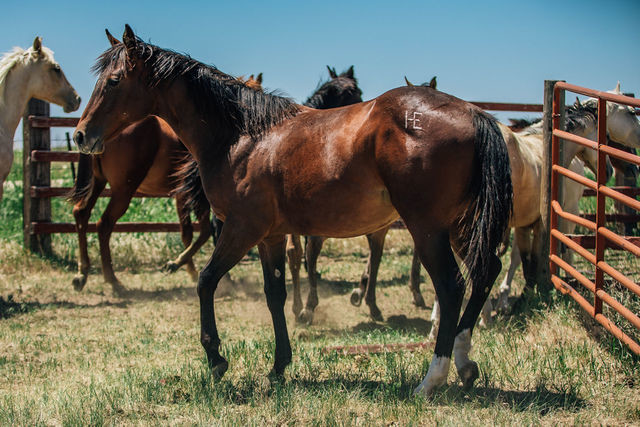 Registration #
5985429
View Registration Papers
Date of Birth:
May 25, 2019
Gender:
Filly
Color:
Bay
Description:
Dee Dee as we call her is the first filly out of this mare  in quite a while, and she's got tons of potential. She should be a smooth traveler with lots of stop, and with a great mind.  She is well balanced and will be bigger made, probably end up near 15.1 or bigger. She should be able to be used in roping, trail or pleasure, lots of potential with this little girl.
Her brothers have been top sellers from our ranch each year, and have been easy starters. Her "Blood Bay" color makes her a true standout.
We will likely be holding onto this filly for a brood mare in the future, however if you would like to talk about purchasing her, we would be willing to chat.
Prized Pedigree Includes:
Sire Line:
Doc Bar
,
King
,
Poco Bueno
,
Wimpy
Dam Line:
Bartender
,
Doc Bar
,
King
,
Wimpy
---
Pedigree
---
Great-GrandSire:
Genuine Doc (1295706)
GrandSire:
Genuine As Diamonds (3083783)
Great-GrandDam:
Diamonds Sparkle (1004317)

Great-GrandSire:
Poco King Tuck (0639743)
GrandDam:
Miss King Degree (3108249)
Great-GrandDam:
Miss Handy Degree (2461813)
---
Great-GrandSire:
Go Likea Roan (2697800)
GrandSire:
Mesa Roan (3166958)
Great-GrandDam:
Mesa Crimson Lady (1436106)
Great-GrandSire:
Docs Handy Guy (2608967)
GrandDam:
Docs Handy Blue (3621453)
Great-GrandDam:
Miss Wimpy Blue (1599626)