---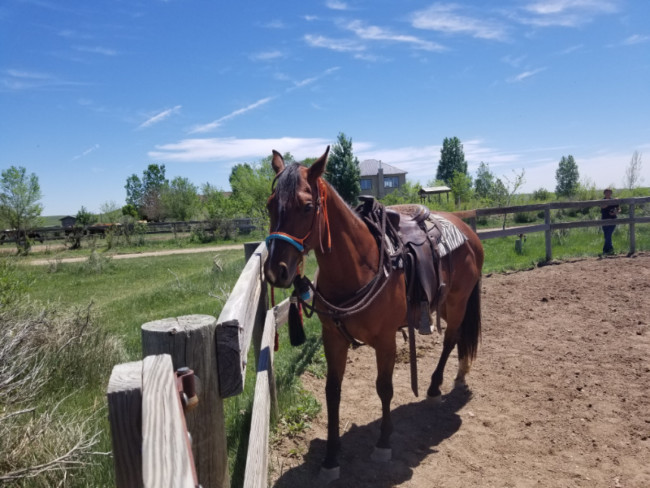 Details
Date of Birth:
March 3, 2016
Gender:
Mare
Color:
Bay
Registration #
5749030
View Registration Papers
Description
This little mare is bred to the hilt with Genuine Doc and Colonel Freckles decorating her papers.
She was our first foal in 2016 and reaped the benefits by being spoiled by our grandchildren. She has a sweet disposition and is also built to be able to get in the ground and turn quickly.
She is going to make a fantastic horse with the potential to be a brood mare down the road with her excellent pedigree.
Prized Pedigree Includes:
Sire Line:
Diamonds Sparkle
,
Doc Bar
,
King
,
Poco Bueno
,
Wimpy
Dam Line:
Colonel Freckles
,
Doc Bar
,
Leo
,
Poco Bueno
,
Sugar Bars








---
Pedigree
---
Great-GrandSire:
Genuine Doc (1295706)
GrandSire:
Genuine As Diamonds (3083783)
Great-GrandDam:
Diamonds Sparkle (1004317)

Great-GrandSire:
Poco King Tuck (0639743)
GrandDam:
Miss King Degree (3108249)
Great-GrandDam:
Miss Handy Degree (2461813)
---
Great-GrandSire:
Colonel Freckles (0911585)
GrandSire:
Solid Sugarbar (2618365)
Great-GrandDam:
Bonanza's Sugarbar (0773085)
Great-GrandSire:
Red Mark Blanton (2595306)
GrandDam:
Redhanded Holly (3982312)
Great-GrandDam:
Jackie Doc Cross (2518521)