---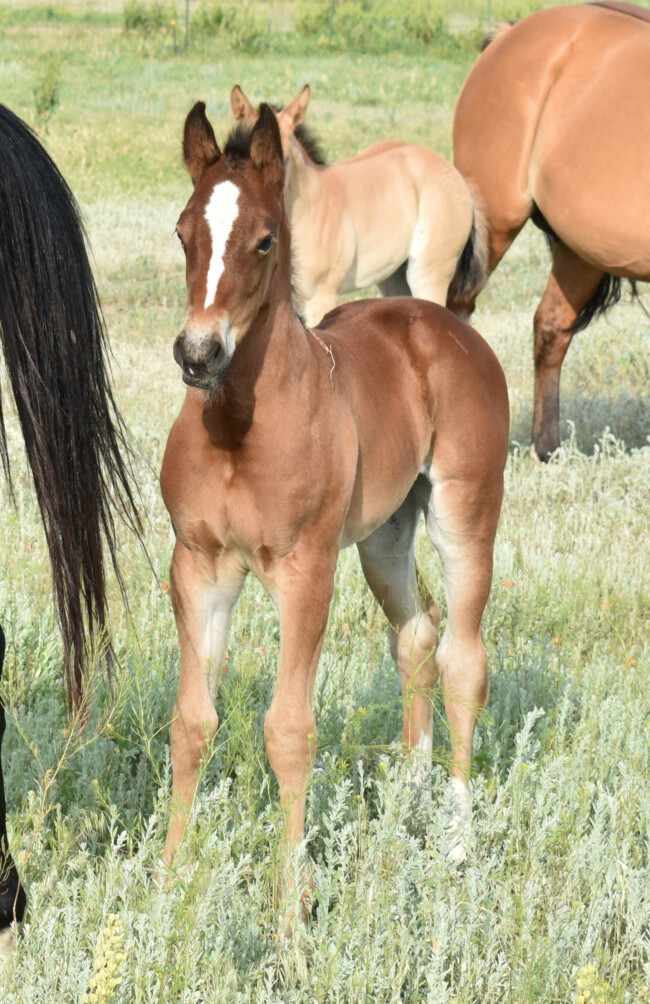 Details
Date of Birth:
June 2, 2021
Gender:
Filly
Color:
Bay
Papers Pending
Description
Tinker is the first foal for TR Sweet Ride and she is a fancy little filly. She should mature to 15 hands and be an easy mover. One of our youngest foals on the Ranch but certain she will be filling out nicely. Will be a great family horse who will be athletic and fun to ride.
She has Doc Bar on both sides of her pedigree, not to mention Smart Little Lena and Mr San Peppy, and is bound to be a great minded horse who learns easily.
She is reserved to be the Giveaway horse this year.
Prized Pedigree Includes:
Sire Line:
Doc Bar
,
King
,
Leo
,
Mr San Peppy
,
Peptoboonsmall
,
Poco Bueno
,
Shining Spark
,
Smart Little Lena
Dam Line:
---
Pedigree
---
Great-GrandSire:
Boonlight Dancer
GrandSire:
Cougarsblueboonlight
Great-GrandDam:
Megans San Jo Lena

Great-GrandSire:
Blue Spark Olena
GrandDam:
Miss Black Shiner
Great-GrandDam:
Jerrys Miss Cuatro
---
Great-GrandSire:
Genuine as Diamonds
GrandSire:
Fancy Cut Diamonds
Great-GrandDam:
Miss King Degree
Great-GrandSire:
BlackJacks Dude
GrandDam:
Docs Benito Pepper
Great-GrandDam:
Benitos Scat