---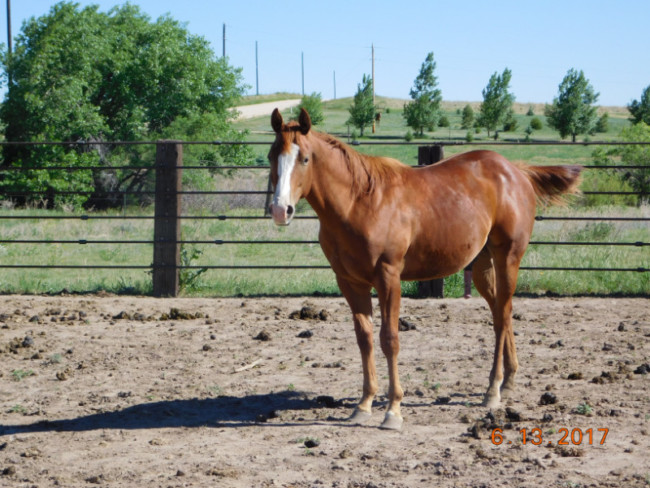 Details
Date of Birth:
May 6, 2016
Gender:
Gelding
Color:
Sorrel
Registration #
5749027
View Registration Papers
Description
Fondly known as "Streaker", this gelding (gelded on April 13, 2017) is one of the top prospects to ever be raised on our ranch thus far.
He has great conformation with lots of chrome, is extremely athletic and he is very smart. He responds almost immediately to pressure and release but is going to be one heck of a horse to ride and will take an experienced rider to be able to handle his kind of power.
Prized Pedigree Includes:
Sire Line:
Diamonds Sparkle
,
Doc Bar
,
King
,
Poco Bueno
,
Wimpy
Dam Line:
King
,
Leo
,
Poco Bueno










---
Pedigree
---
Great-GrandSire:
Genuine Doc (1295706)
GrandSire:
Genuine As Diamonds (3083783)
Great-GrandDam:
Diamonds Sparkle (1004317)

Great-GrandSire:
Poco King Tuck (0639743)
GrandDam:
Miss King Degree (3108249)
Great-GrandDam:
Miss Handy Degree (2461813)
---
Great-GrandSire:
Go Likea Roan (2697800)
GrandSire:
Mesa Roan (3166958)
Great-GrandDam:
Mesa Crimson Lady (1436106)
Great-GrandSire:
Tyree Cody (2650185)
GrandDam:
Poco Chantilly (3616035)
Great-GrandDam:
Poco Annie San (2239909)