---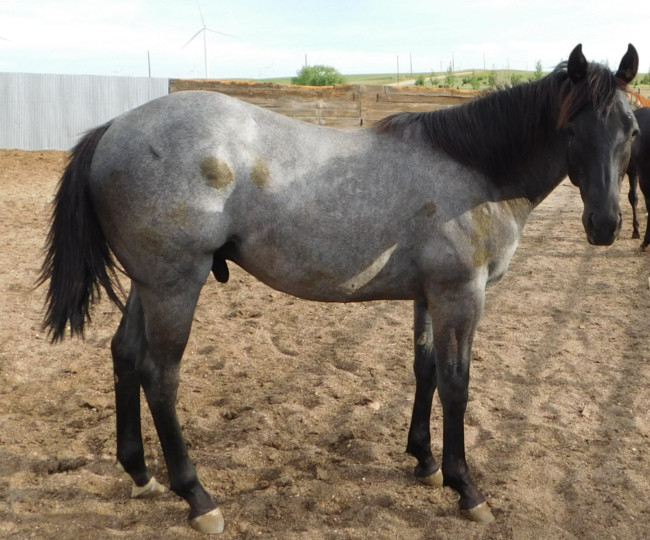 Details
Date of Birth:
April 29, 2018
Gender:
Stallion
Color:
Blue
Registration #
5908888
View Registration Papers
Description
We call him Blue Diamonds for good reason, this yearling stud colt is a gorgeous blue roan just like his mother. He is super friendly, just like our Stud Fancy Cut Diamonds.
This yearling has filled out nicely and looks more like a 2 yo than a yearling. He will probably end up at 15.1 or 15.2 hands and is built right in every way. He will be able to go in about every direction except for reigning or cutting due to his size, he is built to make an excellent head horse.
Prized Pedigree Includes:
Sire Line:
Diamonds Sparkle
,
Doc Bar
,
King
,
Poco Bueno
,
Wimpy
Dam Line:
Bartender
,
King
,
Leo
,
Poco Bueno
,
Two Eyed Jack
,
Zan Gold Jack



---
Pedigree
---
Great-GrandSire:
Genuine Doc (1295706)
GrandSire:
Genuine As Diamonds (3083783)
Great-GrandDam:
Diamonds Sparkle (1004317)

Great-GrandSire:
Poco King Tuck (0639743)
GrandDam:
Miss King Degree (3108249)
Great-GrandDam:
Miss Handy Degree (2461813)
---
Great-GrandSire:
Zan Gold Jackson (2999181)
GrandSire:
Jacksons Blue Jet (4395319)
Great-GrandDam:
Roanys Blue Jet (2998193)
Great-GrandSire:
Mesa Roan (3166958)
GrandDam:
Class Roan (3407540)
Great-GrandDam:
Pocos Class Act (2334349)